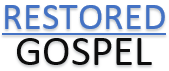 Scripture Context
Genesis 36:42 - Genesis 37:8
42 Duke Kenaz, duke Teman, duke Mibzar,

43 Duke Magdiel, duke Iram; these be the dukes of Edom, according to their habitations in the land of their possession; he is Esau the father of the Edomites.

Genesis 37
Intro: Joseph hated of his brethren -- His two dreams -- Is sold to the Ishmaelites -- He is sold to Potiphar.

1 And Jacob dwelt in the land wherein his father was a stranger, in the land of Canaan.

2 And this is the history of the generations of Jacob. Joseph, being seventeen years old, was feeding the flock with his brethren; and the lad was with the sons of Bilhah, and with the sons of Zilpah, his father's wives; and Joseph brought unto his father their evil report.

3 Now Israel loved Joseph more than all his children, because he was the son of his old age; and he made him a coat of many colors.

4 And when his brethren saw that their father loved him more than all his brethren, they hated him, and could not speak peaceably unto him.

5 And Joseph dreamed a dream, and he told it his brethren; and they hated him yet the more.

6 And he said unto them, Hear, I pray you, this dream which I have dreamed;

7 For, behold, we were binding sheaves in the field, and, lo, my sheaf arose, and also stood upright; and, behold, your sheaves stood round about, and made obeisance to my sheaf.

8 And his brethren said to him, Shalt thou indeed reign over us? or shalt thou indeed have dominion over us? And they hated him yet the more for his dreams, and for his words.