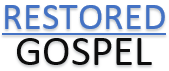 Scripture Context
Genesis 49:17 - Genesis 49:27
17 Dan shall be a serpent by the way, an adder in the path that biteth the horse heels, so that his rider shall fall backward.

18 I have waited for thy salvation, O Lord.

19 Gad, a troop shall overcome him; but he shall overcome at the last.

20 Out of Asher his bread shall be fat, and he shall yield royal dainties.

21 Naphtali is a hind let loose; he giveth goodly words.

22 Joseph is a fruitful bough, even a fruitful bough by a well; whose branches run over the wall;

23 The archers have sorely grieved him, and shot at him, and hated him,

24 But his bow abode in strength, and the arms of his hands were made strong by the hands of the mighty God of Jacob; (from thence is the shepherd, the stone of Israel;)

25 Even by the God of thy father, who shall help thee; and by the Almighty, who shall bless thee with blessings of heaven above, blessings of the deep that lieth under, blessings of the breasts, and of the womb;

26 The blessings of thy father have prevailed above the blessings of my progenitors unto the utmost bound of the everlasting hills; they shall be on the head of Joseph, and on the crown of the head of him that was separate from his brethren.

27 Benjamin shall raven as a wolf; in the morning he shall devour the prey, and at night he shall divide the spoil.