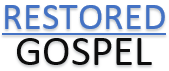 Scripture Context
Exodus 5:22 - Exodus 6:8
22 And Moses returned unto the Lord, and said, Lord, wherefore hast thou so evil entreated this people? why is it that thou hast sent me?

23 For since I came to Pharaoh to speak in thy name, he hath done evil to this people; neither hast thou delivered thy people at all.

Exodus 6
Intro: God reneweth his promise -- The genealogy of Reuben, Simeon, and Levi.

1 Then the Lord said unto Moses, Now shalt thou see what I will do to Pharaoh; for with a strong hand shall he let them go, and with a strong hand shall he drive them out of his land.

2 And God spake unto Moses, and said unto him, I am the Lord;

3 And I appeared unto Abraham, unto Isaac, and unto Jacob. I am the Lord God Almighty; the Lord JEHOVAH. And was not my name known unto them?

4 Yea, and I have also established my covenant with them, which I made with them, to give them the land of Canaan, the land of their pilgrimage, wherein they were strangers.

5 And I have also heard the groaning of the children of Israel, whom the Egyptians keep in bondage; and I have remembered my covenant.

6 Wherefore say unto the children of Israel, I am the Lord, and I will bring you out from under the burdens of the Egyptians, and I will rid you out of their bondage, and I will redeem you with a stretched out arm, and with great judgments;

7 And I will take you to me for a people, and I will be to you a God; and ye shall know that I am the Lord your God, which bringeth you out from under the burdens of the Egyptians.

8 And I will bring you in unto the land, concerning the which I did swear to give it to Abraham, to Isaac, and to Jacob; and I will give it you for a heritage; I the Lord will do it.