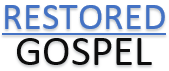 Scripture Context
Amos 5:10 - Amos 5:20
10 They hate him that rebuketh in the gate, and they abhor him that speaketh uprightly.

11 Forasmuch therefore as your treading is upon the poor, and ye take from him burdens of wheat; ye have built houses of hewn stone, but ye shall not dwell in them; ye have planted pleasant vineyards, but ye shall not drink wine of them.

12 For I know your manifold transgressions and your mighty sins; they afflict the just, they take a bribe, and they turn aside the poor in the gate from their right.

13 Therefore the prudent shall keep silence in that time; for it is an evil time.

14 Seek good, and not evil, that ye may live; and so the Lord, the God of hosts, shall be with you, as ye have spoken.

15 Hate the evil, and love the good, and establish judgment in the gate; it may be that the Lord God of hosts will be gracious unto the remnant of Joseph.

16 Therefore the Lord, the God of hosts, the Lord, saith thus; Wailing shall be in all streets; and they shall say in all the highways, Alas! alas! and they shall call the husbandman to mourning, and such as are skillful of lamentation to wailing.

17 And in all vineyards shall be wailing; for I will pass through thee, saith the Lord.

18 Woe unto you that desire the day of the Lord! to what end is it for you? the day of the Lord is darkness, and not light.

19 As if a man did flee from a lion, and a bear met him; or went into the house, and leaned his hand on the wall, and a serpent bit him.

20 Shall not the day of the Lord be darkness, and not light? even very dark, and no brightness in it?