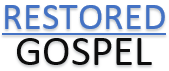 Scripture Context
Exodus 23:30 - Exodus 24:6
30 By little and little I will drive them out from before thee, until thou be increased, and inherit the land.

31 And I will set thy bounds from the Red sea even unto the sea of the Philistines, and from the desert unto the river; for I will deliver the inhabitants of the land into your hand; and thou shalt drive them out before thee.

32 Thou shalt make no covenant with them, nor with their gods.

33 They shall not dwell in thy land, lest they make thee sin against me; for if thou serve their gods, it will surely be a snare unto thee.

Exodus 24
Intro: Moses is called up into the mountain, where he continueth forty days and forty nights.

1 And he said unto Moses, Come up unto the Lord, thou, and Aaron, Nadab, and Abihu, and seventy of the elders of Israel; and worship ye afar off.

2 And Moses alone shall come near the Lord; but they shall not come nigh; neither shall the people go up with him.

3 And Moses came and told the people all the words of the Lord, and all the judgments; and all the people answered with one voice, and said, All the words which the Lord hath said will we do.

4 And Moses wrote all the words of the Lord, and rose up early in the morning, and builded an altar under the hill, and twelve pillars, according to the twelve tribes of Israel.

5 And he sent young men of the children of Israel, which offered burnt offerings, and sacrificed peace offerings of oxen unto the Lord.

6 And Moses took half of the blood, and put it in basins; and half of the blood he sprinkled on the altar.