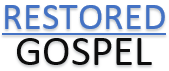 Scripture Context
Mosiah 1:50 - Mosiah 1:60
50 Behold, ye have called me your king; and if I, whom ye call your king, do labor to serve you, then had not ye ought to labor to serve one another?

51 And behold, also, if I, whom ye call your king, who has spent his days in your service, and yet has been in the service of God, doth merit any thanks from you, O how had you ought to thank your heavenly King!

52 I say unto you, my brethren, that if you should render all the thanks and praise which your whole souls have power to possess, to that God who has created you, and has kept and preserved you, and has caused that ye should rejoice, and has granted that ye should live in peace one with another;

53 I say unto you, that if ye should serve him who has created you from the beginning, and art preserving you from day to day, by lending you breath, that ye may live and move, and do according to your own will, and even supporting you from one moment to another;

54 I say, if ye should serve him with all your whole soul, yet ye would be unprofitable servants.

55 And behold, all that he requires of you, is to keep his commandments; and he has promised you that if ye would keep his commandments, ye should prosper in the land;

56 And he never doth vary from that which he hath said; therefore, if ye do keep his commandments, he doth bless you, and prosper you.

57 And now, in the first place, he hath created you, and granted unto you your lives, for which ye are indebted unto him.

58 And secondly: he doth require that ye should do as he hath commanded you, for which if ye do, he doth immediately bless you; and therefore, he hath paid you.

59 And ye are still indebted unto him; and are, and will be, for ever and ever; therefore, of what have ye to boast?

60 And now I ask, Can ye say aught of yourselves? I answer you, Nay.