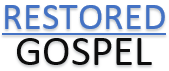 Scripture Context
2 Nephi 12:72 - 2 Nephi 12:82
72 And the Nephites and the Jews shall have the words of the lost tribes of Israel; and the lost tribes of Israel shall have the words of the Nephites and the Jews.

73 And it shall come to pass that my people which are of the house of Israel, shall be gathered home unto the lands of their possessions; and my word also shall be gathered in one.

74 And I will shew unto them that fight against my word and against my people, who are of the house of Israel, that I am God, and that I covenanted with Abraham, that I would remember his seed for ever.

75 And now, behold, my beloved brethren, I would speak unto you: for I, Nephi, would not suffer that ye should suppose that ye are more righteous than the Gentiles shall be.

76 For behold, except ye shall keep the commandments of God ye shall all likewise perish; and because of the words which have been spoken ye need not suppose that the Gentiles are utterly destroyed.

77 For behold, I say unto you, That as many of the Gentiles as will repent, are the covenant people of the Lord; and as many of the Jews as will not repent, shall be cast off;

78 For the Lord covenanteth with none, save it be with them that repent and believe in his Son, who is the Holy One of Israel.

79 And now, I would prophesy somewhat more concerning the Jews and the Gentiles.

80 For after the book of which I have spoken shall come forth, and be written unto the Gentiles, and sealed up again unto the Lord, there shall be many which shall believe the words which are written; and they shall carry them forth unto the remnant of our seed.

81 And then shall the remnant of our seed know concerning us, how that we came out from Jerusalem, and that they are descendants of the Jews.

82 And the gospel of Jesus Christ shall be declared among them; wherefore, they shall be restored unto the knowledge of their fathers, and also to the knowledge of Jesus Christ, which was had among their fathers.